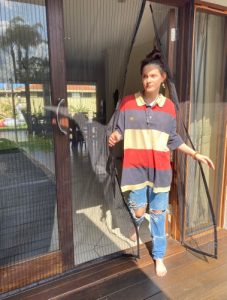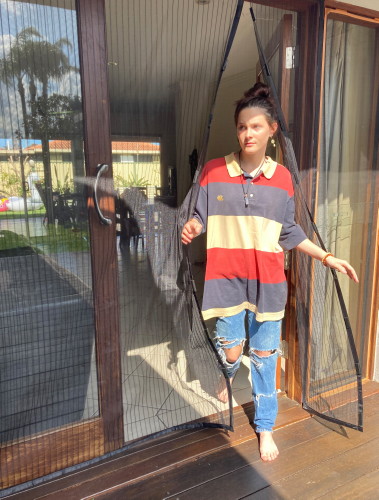 There are so many types of door styles available to choose from.  By far the most popular in Australia is the bi-fold door.  Available in Timber, Aluminium and PVC, these doors are specifically designed to totally open up a home blending indoor and outdoor living seamlessly. But opening up your home also opens it up to uninvited guests such a mosquitos, flies and other insects. What good are these beautiful doors if you can't enjoy them? Bug Mesh Screens Oz has the perfect solution – fly screens for bifold doors!
Here are a few common concerns you may have when thinking about screening bi-fold doors.
You didn't know there is a solution for screening bi-fold doors.
Bifold doors have been in vogue in Australia for several years, and it's still surprising to hear how many people aren't aware of the types of screens that are available that are perfectly suited to bi-folding doors. A popular and cost effective solution is a Bug Mesh magnetic fly screens for bifold doors. A tradesman is not required to install a Bug Mesh yet they look great and they simply work and can be fitted to just about any bi-fold door.
You have beautiful doors and like the look of them
Bifold doors aren't just a practical solution to opening up your home, they are actually a decorative feature of your home.  It's no secret that good quality doors in timber, aluminium or PVC, with quality hardware, are an expensive investment.  With that investment comes a look and feel that make your home and view stand out, the last thing you want to do is add anything to the frames.  So the thing to do is select a screen that blends in with the frames and becomes a seamless addition.  A Bug Mesh Screen from bugmeshscreensoz.com.au is the perfect solution
You don't want to take away from your view
The point of bifold doors is to open up your home transitioning smoothly from indoor to outdoor living without any obstructions.  The right screen should be discreet, tucked away out of sight when not in use and as invisible as possible when in use.   Depending on the width of the opening, one screen could span the opening offering no interruption to the view.  Where two screens are required, to meet in the middle or off centre, there would be a minimal interruption.
You are concerned about how much space screens will take up
There are a variety of bi-fold door styles available to suit just about any application.  The frames of these doors and where they are fitted is unique to each home.  Some door frames are "chunky" and commercial looking while others are more delicate and have smaller profiles.  Some doors will have blinds or other window furnishing added to them while others won't.  The biggest concerns to most homeowners are: how much space do the cassettes of a retractable screen take up or what is the stack back of pleated screens? A simple answer is the wider the opening with bigger the cassette and pleat stack back.  The upside is that the wider the opening the less obvious the sections become and therefore more likely to blend neatly.
Are you worried the doors clash will with the screens?
Bifold doors can be fitted with the leaves of the doors opening either outward or inward depending on the layout and space of the home.  If the doors hinge outward the screens are fitted to the inside of the home and vice versa.  Generally, if the doors are open, the screen will clear handles and hardware because the doors are completely out of the way of the screen.  When not in use the screens are moved away to the side of the opening.  In some cases, if there is potential for a screen to clash with hardware, it can be mounted to the face of the door frame or built our so as to clear it.  In most, if not all cases, there is a way to install a  Bug Mesh Screens Oz fly screen for bifold doors without a problem
How do they work with your door configurations?
As all homes and lifestyles are different so are the choices homeowners make when considering additions to their homes.  For those that like to entertain a big 6 panel centre opening bi-fold that opens up is for them.  For others that like to use one door regularly but like the idea of opening up the home for ventilation than a 3 door bi-fold with 2 opening to one side and a single lead door to the other could be for them.  In any case, there are solutions available.  It could be one big screen covering the whole opening in one span, it could be 2 screens that meet in the middle or even off centre.  Whatever the configuration of your doors, there will be a solution for you.
How easy are Fly Screens for Bi-fold Doors to use?  Can kids or guests use them?
Conventional screens for bifold doors have had a bit of a chequered past.  They have had a reputation of being flimsy and not particularly user-friendly.  Fortunately, as with all things, innovation and improvements in quality manufacturing has improved the reputation of these screens.  A good retractable screen should be sturdy, easy to use and have a soft closing mechanism to ensure the screen retracts slowly and evenly to its housing.  A Bug Mesh Magnetic Screen from bugmeshscreensoz.com.au is the perfect solution.  It will allow children and pets to move in and out of the door with freedom and close behind them without detracting from the aesthetics of your beautiful bi fold doors.
Need fly screens for bifold doors? Think Bug Mesh Screens Oz!